If you're a competitive snowboarder in the Steamboat Winter Sports Club for over a decade, you're probably going to shatter more than a few bones.
And when you're in the hospital for your many surgeries over the years, you're probably going to receive opiates to manage your pain.
Charlie Peddie was 12 when he busted his kneecap at USASA Nationals at Mammoth Mountain. He was given 20-milligram Oxycontin tablets for pain control after surgery. Though he was just a kid, he vividly remembers the feeling the opiate instilled inside him. "It got me thinking, 'Hey, this is a chemical that reacts well with your brain, and your body seems to like it.'"
Over the next six years, Charlie won a couple of national title championships and came very close to qualifying for the pro circuit. He also suffered many more snowboarding injuries and was prescribed lots of different painkillers. Still, he didn't start using them recreationally, even though many of his high school friends did.
But in his freshman year of college, drugs were everywhere. "I remember sitting in a friend's dorm room, playing Halo, and somebody pulled out some pills and offered me an oxy. They said to be careful because it was potent, but I laughed and said I'd been taking them my entire life."
By the time Charlie was a sophomore, he and his roommates were popping oxy all the time. Some friends made the move to heroin. Charlie watched as peers dropped out of school because of their habit. Some died. "Yet even while watching my friends all slip away into darkness, it never occurred to me that I would end up the same way, because I was Charlie Peddie," he said. "I was different from everyone else."
Ironically, Charlie's delusion about his perceived invincibility was reinforced when as a senior in college, he suffered an especially traumatic leg injury and was on serious pain meds for two months. After that, he focused on getting healthier. He quit drinking. He quit painkillers and recreational drugs. "You'd think that injury would have turned me toward drugs, but it turned me the other way," he said.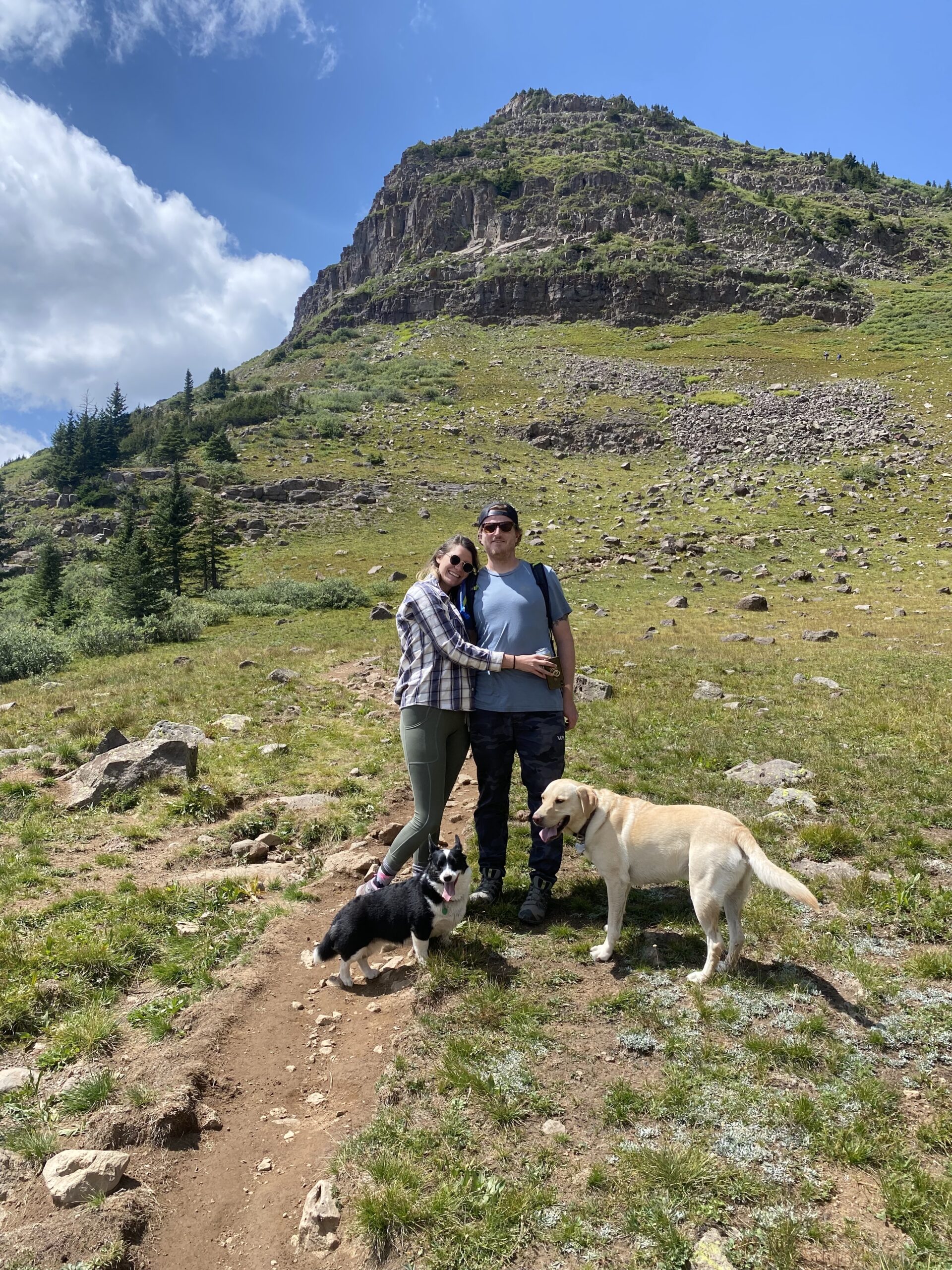 Charlie Peddie and his partner Alayna, with their dogs Stevie & Tank.
Charlie graduated and got a job as a sales rep for snowboard companies. He had an apartment in Denver. He had friends. He met a girl. He got engaged. Life was good.
Until a friend tempted him with "blues"—30-milligram oxycodone. "That was the beginning of the end for me," Charlie said.
Substance Use Takes Over
By this point, Charlie was routinely using opiates, alcohol and cocaine. "The oxies helped me recover in the mornings," he said. "But it became an expensive habit, and I got deeper and deeper into debt."
Charlie was 27 and an addict, smoking oxycodone and getting high all day long. He started losing interest in snowboarding. "My friends and I were doing drugs nonstop," he said. "I was losing control over absolutely everything."
But his fiancée, Jordana, didn't know. She was working long days, while he "worked from home" and partied. Their wedding was approaching. On their bachelor/bachelorette party weekend, while they were celebrating with friends in different cities, someone told Jordana the truth about Charlie.
"I had been lying through my teeth for a full year," he said. "In my head I was protecting Jordana, but I realized all I was doing was protecting my drug habit."
A break-up and suicide attempt on Charlie's part ensued. "I lost my job, my house, a number of my friends, my fiancée, my whole way of life," he said. He feels fortunate to have survived. He's also grateful that his parents, brother and Jordana surrounded him with love and hope.
Treatment & Ongoing Recovery
Charlie made the decision to get better. He did 37 days of inpatient treatment at Foundry Treatment Center, in Steamboat, followed by a 90-day intensive outpatient program. He learned how to use natural wellness methods like yoga, meditation, volunteer work and outdoor exercise to reorient his life.
That was six years ago. "It's been a bumpy road since then," Charlie admitted. Relapse has been part of his journey. "Luckily, I've been able to catch myself pretty quickly and report to my counselor when this happened. I try to understand why I used again. I know that for me, depression plays a role. I use the tools in my toolkit to get myself healthy and happy again."
Charlie led an AA group in Steamboat for a year before realizing that he was miserable in that version of sobriety. He now works as CEO for Billo Premium Cannabis. He uses marijuana to help ease his opiate cravings, but mostly he tries to focus on being outdoors and connecting with nature. He snowboards in the winter and mountain bikes in the summer.
"There's not one way to conquer this and stay sober," he said. "It's my belief that people in recovery can get pigeonholed into this idea that they have to follow a certain set of rules. And that can make those who are living with a substance use disorder scared to reach out for help. They think their whole life will be over."
It Can Happen To You
Charlie tells his story to emphasize that drug addiction can happen to anyone.
"I'm an affluent kid from an affluent community," he said. "But many of my friends, who grew up in the same place and in the same way, are now in prison or on the streets with heroin or fentanyl addiction. Six have died. I thought I was immune from all that. But in treatment, I finally saw that I was no different. It doesn't matter how physically active you are, how close your family is, how much money you have—this epidemic doesn't discriminate against anyone."
Charlie's especially afraid for the younger generation, because they're exposed to even stronger and more addictive and lethal drugs, like fentanyl and carfentanil, which is 100 times more potent than fentanyl.
"I don't think today's kids are educated about what fake vs. real pills look like," he said. "Today you could take a pill and it could have one little hot spot (of fentanyl) in it, and you could be done."
Living and Loving Life
Charlie is still an extreme athlete, only now he's not competing—he's doing it strictly for fun. "I'm an adrenaline junkie," he said. "I like putting myself out there and living life to the fullest. But still, I have this lifelong battle. It's never going to be fully conquered, no matter how in control of it I think I am. I never planned to relapse. I didn't want to relapse. But it has happened. I have to keep my guard up 24/7. But it's impossible to have your guard up 24/7."
Pictured: Charlie Peddie Snowboarding.
Charlie realizes that he gave up a lot of the best years of his life to drugs. "I could have spent my 20s traveling and doing amazing things," he said. "Instead, I chose to just sit around and do drugs. That sucks. There's a whole world out there to live in."
If he's having a bad day, Charlie takes a break and goes snowboarding or mountain biking. He makes sure he's doing things he loves and that are good for his health. He continues seeing his counselor. He shares everything with his partner, Alayna, so she can help him stay accountable. He hangs out with their two dogs, Stevie and Tank.
One of Charlie's favorite ways to live well is through service. He's been doing talks for Winter Sports Club athletes, and plans to give these talks to high school students, to tell them what he's learned. He'd like to do more speaking, and maybe coach snowboarding someday, too.
"I feel very happy and accomplished right now," he said. "Making time for what makes me happy saves my life."