Christopher Ray paddle boarding.
On a cold October night in 2019, Christopher Ray nearly died after attending a random house party in Boulder.
At the time, he was 10 months sober, active in a 12-step program and had replaced his substance use with routine yoga. He had no intention of using substances, although he suspected they may be present.
Sober, Ray left the party later in the night and grabbed a bottle of water on his way out. He didn't know it at the time, but the water bottle was laced with GHB, a drug that is deadly when consumed in large doses. He drank the entire bottle.
When he got back to his hotel room that night, his heart stopped. A hotel housekeeper found him the next morning barely alive. Ray was in a coma for 22 hours and on life support for several days after. His healthcare staff told his parents to make funeral arrangements.
But he fought and got better.
Since then, he's never taken a day for granted and values surrounding himself with positive influences on his sobriety.
"It was a wake-up call," he said. "I realized even if I wasn't doing drugs or drinking, if I was around people who were, I could be inadvertently affected."
From ages 13 to 40, Ray's relationship with substances mimicked a roller coaster ride. His life was defined by periods of "ups" and "downs."
During the "ups," Ray's substance use disorder didn't control him. He maintained jobs and relationships. His life felt like it was on the right track.
During the "downs," Ray's life felt scattered and broken. In these periods, he regularly blacked out and was arrested for DUIs. He missed rent payments or was fired from whatever job he had at the time. 
"I always found a way out," he said. "I was in decent health and never had to suffer too many consequences for my actions. But as I got older and sicker, my tolerance increased, and I got to a point in which I wasn't able to keep up with my health."
"I knew they had something that I wanted — a life that I admired and looked up to. These were people living full lives without drugs or alcohol."
Ray's SUD started to take over. He lost interest in some of his favorite hobbies such as skiing and hiking. He was losing teeth and battling consistent sinus infections. He weighed only 145 pounds, which was severely underweight for a man of his 6-foot stature.
One day, Ray was fired from another job, and it no longer felt OK or comfortable to him. He felt like he had finally run out of options and burned all his bridges.
"I was just sick and tired of being sick and tired all the time," he said. "I didn't look good. I didn't feel good. It didn't feel fun anymore."
Ray knew he wanted to turn his life around. Inspired by two friends who successfully recovered, Ray reached out to them for help.
"They inspired me," he said. "I knew they had something that I wanted — a life that I admired and looked up to. These were people living full lives without drugs or alcohol."
In December 2018, Ray checked into a rehabilitation center and started his recovery process. He spent his first few weeks of sobriety navigating the healthcare system while in a state of withdrawal, agitation, confusion and fear. It wasn't easy, but he persevered.
Eventually, Ray found strong examples of people having fun in recovery and developed allies within the recovery world.
After his near-death experience in Boulder, Ray fully immersed himself into a substance-free life. He completely started from scratch to rebuild all aspects of his life — ranging from his after-work hobbies to the people he spent his weekends with.
In a community where happy hours, casual beers and drug use are common in social settings, he found it was difficult to connect with others and form relationships in the way he was accustomed to. So, he and his friend decided to start a Facebook group.
They called the group SoBoat — a play on the words "sober" and "Steamboat." It served as a place in which people within the Steamboat Springs community could find substance-free settings and events or meet others in recovery.
"I wanted it to be a group in which you could find things to do with others that didn't involve alcohol or drugs, like mountain biking, hanging out by the pool or grabbing coffee," Ray said.
The group has since grown from its original two members into a community of more than 600 people, who range from individuals in recovery to their supportive allies, friends and family members.
"It was a community built by attraction, not promotion," Ray said. "We built it slowly and purposefully. We wanted it to grow organically."
Pictured: Christopher with some friends!
In addition to organizing events and maintaining activities for SoBoat, Ray found his dream job in August 2020 at The Health Partnership Serving Northwest Colorado as a Peer Recovery Specialist. In his role, he continues to change the local stigma by providing assistance and resources to those struggling with an SUD or recovering from one — through in-person support, retreats, meetings and activities such as yoga, camping, paddle boarding and bowling nights.
His goal is to create events, activities and resources that bring the community together to raise awareness about substance use disorder.
"Overall, there are many different forms of recovery in our community, and I want to continue to create more because recovery is not one-size-fits-all," he said. "We're lucky because our state is doing a phenomenal job. There is a lot more acceptance for those struggling with an SUD here than in other areas of the country."
Ray is thankful for those who supported him throughout his recovery. He knows strong support systems can help those with SUDs get better and live fruitful lives. He's a living example of that.
"I had people looking out for me, even when I didn't know it at the time," he said. "So, keep going. There is a full life in recovery. And it's a better life than the one you have when you're alone and isolated with your SUD."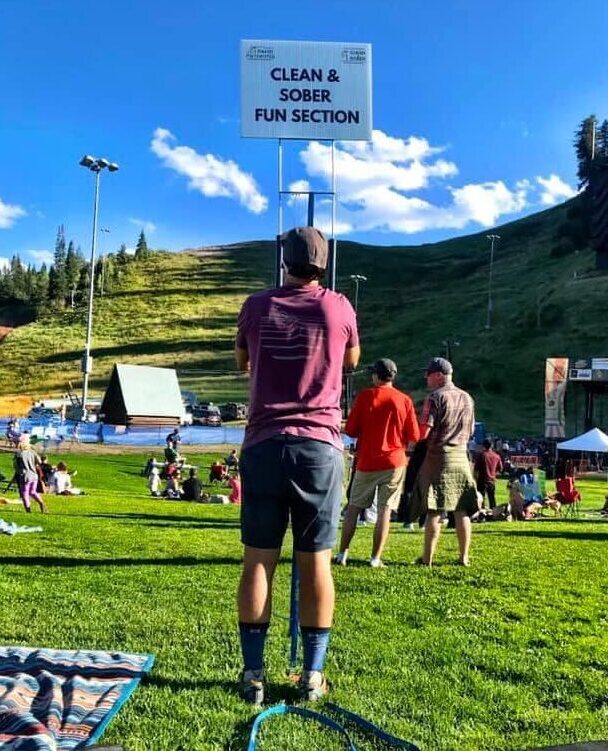 Clean and Sober Fun section at a local event.